Before settling in Dunolly Anna and Philip Ashton spent many months traveling around eastern Australia in a gypsy wagon they built themselves. Pulled along by two Clydesdale horses, and with three young kids in tow, Anna and Philip lived out of their homemade van, supporting their family by selling Anna's handmade pottery, doing odd jobs and busking their way from town to town.
Their kids are now grown, with kids of their own, but that sense of adventure and zest for life still permeates everything they do.
Anna, a skilled potter, felt maker, jewellery maker, musician, welder, milliner, builder, architect, seamstress, woodworker and all round creative, is always making something, fixing something or learning something new, and the home she has built with Philip is a constantly evolving treasure trove of wonder.
Philip is a talented musician, photographer, film-maker, and wood-turner, and together he and Anna created the Ministry of Fun, a gallery and muti-studio workspace, developed as a place where arts is experienced and taught, within a variety of media, including music, ceramics, textiles, and whatever else presents as a possibility!
For the 2022 Tiny Towns Arts Trail the Ministry of Fun will be showcasing Anna's incredible felt work, millinery and jewellery, alongside Philip's exquisitely turned boxes and vessels, all of which are available for purchase in their intimate studio shop.
Local ceramicist, Danielle Boothroyd will also be sharing the space at Ministry of fun. To find out more about Danielle's work click here.
As an added bonus, Philip's wonderful photographic work will be on display in the Ladies Lounge at the beautifully restored Bealiba Railway Station over the trail weekend.
For workshops and further details at the Ministry of Fun checkout their Facebook page or contact Anna or Philip via their website.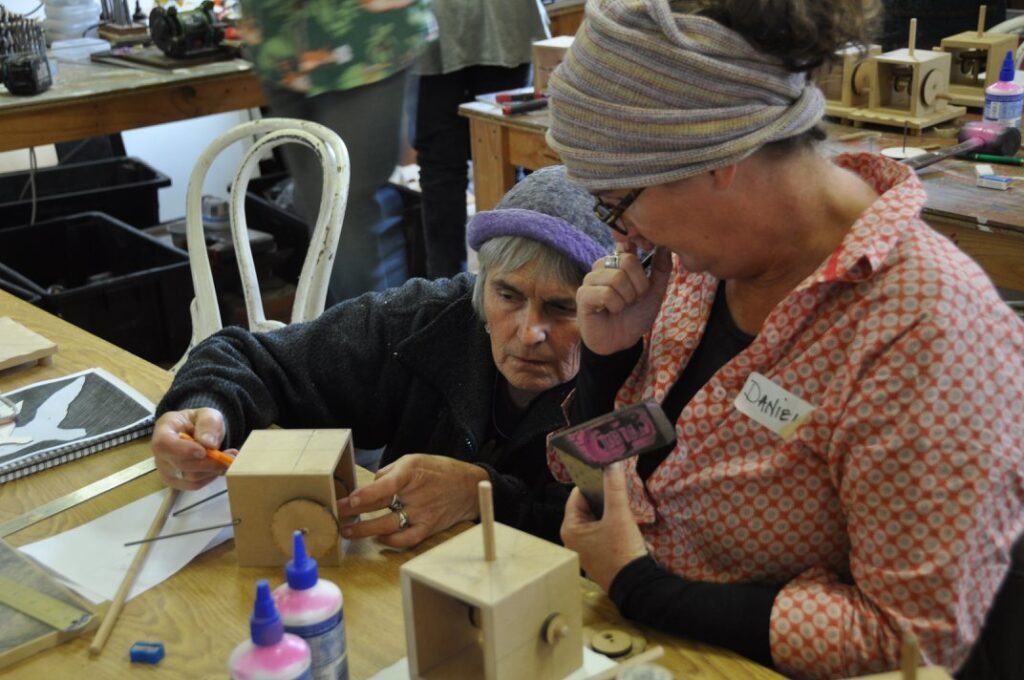 While you're in Dunolly stop in at The Woolly Goose to pick up some fine art yarns. Check out Studio 33 for a rare peek at Val Wilkinson's wonderful art and garden. Drop by Puzzleflat Art Gallery to see the Tiny Towns Arts Trail Portrait Prize and an exhibition of works by Inglewood artist Greg Holland. Don't forget to check out Dunolly's Art Walk as you make your way round to the Dunolly Arts Hub. On your way out of town, stop in at Squirrel Gully Saffron and pick up a treat before heading out to Alvah Art Gallery.